Lawyer Evgenij Mansurov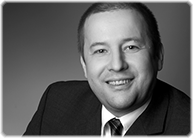 From 1992 to 1996 graduate engineer and constructor in a big Russian industrial company.
Admission to the bar in 2007 and foundation of the law office Evguenij Mansurov.
From 2007 associate lawyer in a medium sized software company in Cologne.
In 2010 foundation of mth Tieben & Partner partnership.
Languages: Russian, German, Czech, Spanish.